---
We warmly invite all TDSI alumni to attend the TDSI Alumni Connection. This one-hour session via Zoom is on:
Singapore: Fri, 17 Dec 2021, 10:00 – 11:00
CA, USA: Thu, 16 Dec 2021, 18:00 – 19:00
Ms. Elizabeth Heng
(MDTS 2012 intake) will be sharing on
Singapore Defence Technology Summit (Tech Summit) 2021 – Key Takeaways.
The Tech Summit was held from 12 to 15 Oct 2021 in a hybrid format – physically in Singapore and over a virtual platform. It examined the impact of recent disruptions to government organisations and industries, postulated new disruptors and vulnerabilities, and brought together thought leaders to discuss how they can organise themselves for future disruptions and seize unexpected growth opportunities. This session will share some of the key takeaways from the Tech Summit.
Terms and Conditions

By signing up for the event, you consent to National University of Singapore (NUS) through TDSI collecting, using and/or disclosing your personal data to third parties (including any third party located outside of Singapore) for the purpose of administering and managing the lecture, stated herein. Any personal information provided to us will only be used for event registration and administration. Photos and audiovisual recordings of this event may be used by TDSI for education, marketing, promotional and/or publication purposes. By attending this event, you have consented to the above.
Disclaimer: All opinions expressed by the event participants are solely their current opinions and do not necessarily reflect the official policy or position of TDSI, its partners, and affiliates.
TDSI Contact:
tdsbox2@nus.edu.sg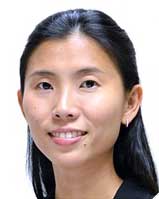 Ms Elizabeth Heng is Director Technology Strategy and Policy Office in the Ministry of Defence, Singapore. Prior to this, she held various appointments in the Defence Science and Technology Agency, overseeing capability development in sensors, and acquisition management of guided weapons and communication systems.
Elizabeth is our TDSI alumnus with a Master of Science in Defence Technology and Systems from the National University of Singapore, and a Master of Science in Electrical Engineering from the Naval Postgraduate School (USA).