Nanomaterials: Past, Present, and Future
Functionality of novel nanomaterials – including two dimensional (2D) ultrathin films, one dimensional (1D) nanowires/nanotubes, and zero dimensional (0D) nanocrystals – and their impact on society will be ultimately dictated by our ability to precisely control their structural properties, size uniformity, and dopant distribution at the atomic level.
Prof. Gradečak-Garaj's overall research strategy is to address these key material challenges through a bottom-up approach that builds upon synthesis of freestanding nanoscale objects and their assembly into functional devices for applications in nanoelectronics, nanophotonics, and in energy harvesting and conversion. This objective is often met by designing hierarchical assemblies at different length scales and by combining different classes of materials into hybrid structures. Her approach is to use a set of experimental techniques – each carefully selected or developed in my laboratory – to directly establish processing-structure-property correlation on the nanoscale and move toward truly deterministic nanoscience.
In this presentation, we will review the recent developments in the field of nanostructured materials with special emphasis on applications in electronics and photonics.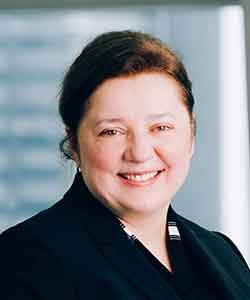 Prof. Silvija Gradečak-Garaj
Silvija Gradečak-Garaj obtained her M.S. and PhD in Physics from the University of Zagreb and the Swiss Federal Institute of Technology in Lausanne, respectively. In 2003, she was awarded the Swiss National Science Foundation Fellowship for Prospective Researchers and spent 2 years as a Postdoctoral Research Fellow at Harvard University, Department of Chemistry and Chemical Biology. Prof. Gradečak started her academic career at MIT, Department of Materials Science and Engineering in 2006, where she earned tenure in 2013 and Full Professorship in 2017.
Since July 2019, she is a Professor of Materials Science and Engineering at NUS, where she served concurrently as a Director within the Office of a Deputy President for Research and Technology and more recently, as the lead PI and co-Director of the Applied Materials-NUS Advanced Materials Corporate Lab. She is a member of the NUS Graduate School of Integrative Sciences & Engineering (NGS) and a PI within the Low Energy Electronics Interdisciplinary Research Program under the SMART centre of CREATE Singapore. Prof. Gradečak-Garaj is a recipient of the NSF CAREER Award, 3M Innovation Award, Inaugural 2012 Nano Letters Young Investigator Lectureship, and Graduate Materials Council Outstanding Teaching Award, among others.