Pressure Gain Combustion for Aerospace Propulsion and Power Generation
This presentation focuses on the research developments in pressure gain combustion (PGC) for aerospace propulsion and power generation at the National University of Singapore (NUS). Since the 1940s when Hoffman first proposed the application of detonation waves for aerospace propulsion applications, there have been sustained efforts by many scientists and researchers worldwide in attempting to transfer the science of detonation combustion into practical combustion engines. Recently, the study of pressure gain combustion has been revisited and has been proven to be capable of implementation in practical applications by many research groups throughout the world. NUS has been actively pursuing research in numerous fundamental aspects of pressure gain combustion, such as detonation initiation, pulse pressure gain combustors using both gaseous- and liquid-fuels and continuous pressure gain combustors. In this presentation, the benefits of PGC from the viewpoints of thermodynamics, initiation mechanisms of PGC, complexities of wave modes within the PGC combustor and characterizations of its thermal properties will be presented. Finally, the potential of PGC for power generation applications and studies involving the shuttling transverse combustor, a novel PGC configuration, will be discussed.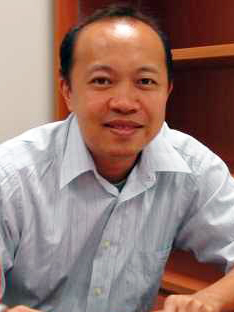 Teo Chiang Juay received his B. Eng. and M. Eng. degrees in Mechanical Engineering from the National University of Singapore (NUS), and his Ph.D. in Aeronautics and Astronautics from the Massachusetts Institute of Technology (MIT). He is currently an Associate Professor at the NUS Department of Mechanical Engineering. He teaches modules related to Fluid Mechanics and Aerospace Propulsion. His research interests include thermal-fluids, microfluidics, hydrodynamics, aerodynamics and aerospace propulsion. He currently conducts research on the use of superhydrophobic surfaces for reducing flow resistance in microfluidic applications, the use of chaotic advection for heat transfer augmentation in microchannel heat sinks, Wing-In-Ground craft aerodynamics, flow cavitation, Detonation Engines and cross flow fans for Unmanned Air Vehicles.