Hunter Armoured Fighting Vehicle
In delivering the Singapore Army's first fully digitalised platform, the Hunter Armoured Fighting Vehicle (AFV) team implemented design and engineering approaches to streamline engineering workflow and processes. The team utilised 3D modelling and simulation to reduce integration risks and expedite the design process in the development phase. Innovation was adopted in the design of the Integrated Combat Cockpit and the Army Tactical Engagement and Information System (ARTEMIS) to streamline workflows, reduce cognitive load and enable the crew to collaborate effectively with one another. The team has also established an open and modular vehicle electronic architecture to facilitate future technology insertions, and set up a Systems Integration Lab for efficient and cost-effective testing.
Photo credit: Mr Wong Ying Tat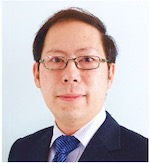 Mr Wong Ying Tat is a Senior Programme Manager at the Defence Science and Technology Agency (DSTA)'s Land Systems, and also the Lead Combat Systems Integrator for the Hunter AFV Programme. He was involved in the development, design, qualification and testing of the Hunter AFV and contributed to many of the features and capabilities that are operationalised on the system today. Prior to this, he had worked on various programmes and projects involving the acquisition and integration of weapon systems on various land and naval platforms.